Telstra launched their loyalty program, Telstra Plus, in April 2019.
With the go-to-market assets in place, I was assigned to the program as the UX Design Lead. A visual designer, copywriter and a grad on rotation made up the rest of the design team. I worked with multi-disciplinary teams, program leads and Telstra Digital sales and service executives to deliver on the mission goals, objectives and key results metrics.
The output from our design team fed into the product release roadmap, as well as the strategic direction of the overall digital experience for customers and the business. 
The launch of Telstra Plus focussed on the go-to-market value proposition, member tiers and benefits. On joining the team, it was clear that a sense of where-to-next had not yet been established.
I initiated the design process by running workshops to establish and prioritise design objectives within the program.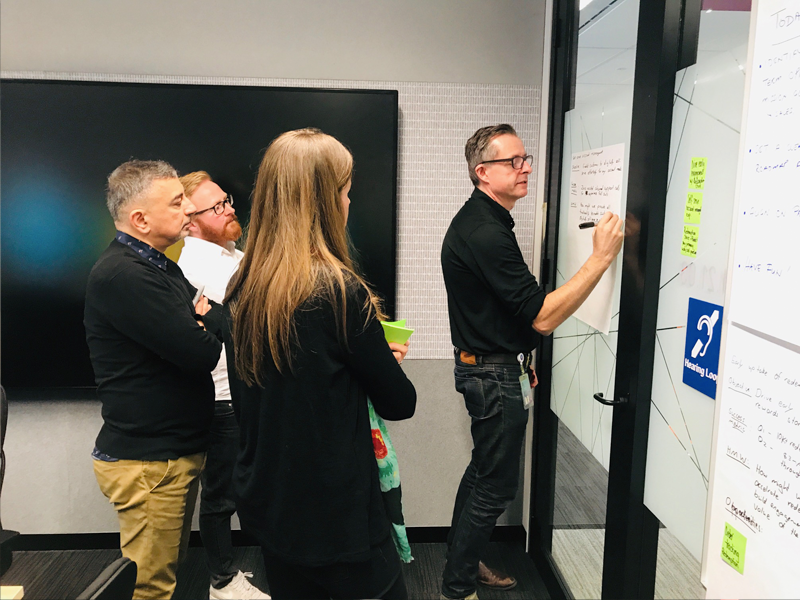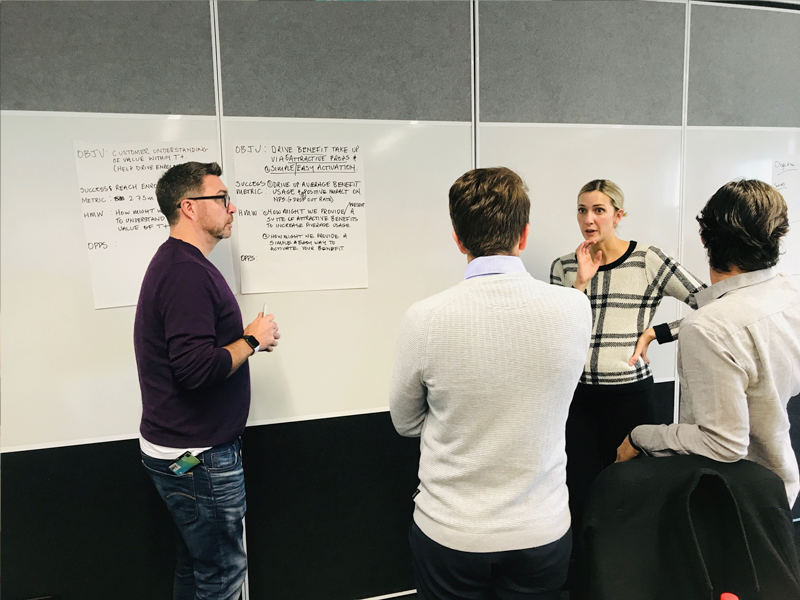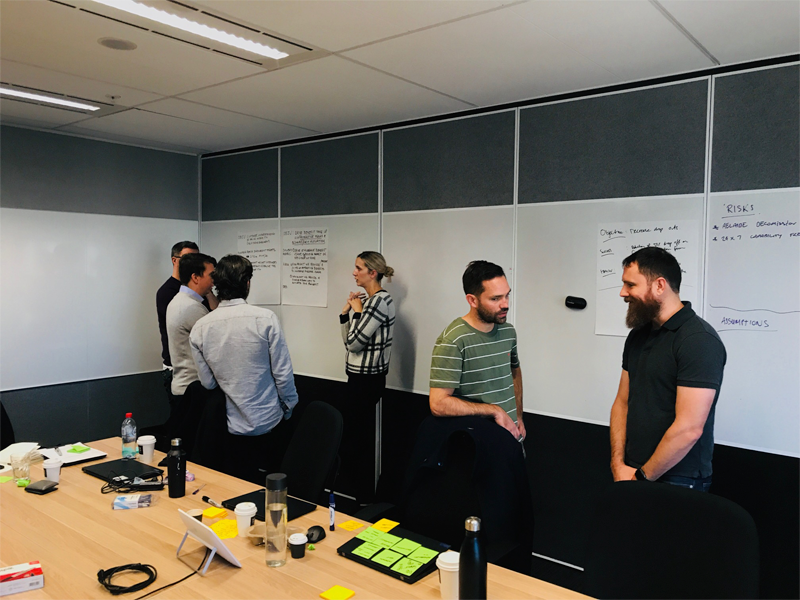 Hypotheses
With continued engagement into the program, key assumptions became clear: 
Telstra Plus member acquisitions will increase where we can illustrate the benefits of the rewards program by leveraging the customer's service and spend data to deliver a relevant personalised message.
Existing Telstra Plus members will engage more deeply with the program where they have a clearer view of their spend, how that translates to their member tier, points accrual, redemption store goals, and access to benefits.
These formed the basis of ongoing concept design, content development and usability testing.
Process

I mapped out the existing user journeys to assess the integration of T+ into the corporate website, the heritage 24x7 app and yet to be released My Telstra app. This included a deep dive into the customer creation of a Telstra ID and the follow on 'Join' flow for customers signing up to the loyalty program.

I then looked at the placement of Telstra Plus within the overall corporate website ecosystem and mapped out the existing Information Architecture in order to evaluate better integration into
Telstra.com.au
. 
The design team explored better curation of content by distributing key messages across a number of pages, thereby breaking away from the single marketing landing page construct that had been delivered for launch. This allowed us to focus on an Information Architecture for authenticated members that provided a realtime playback of the Telstra Plus benefits a member could access.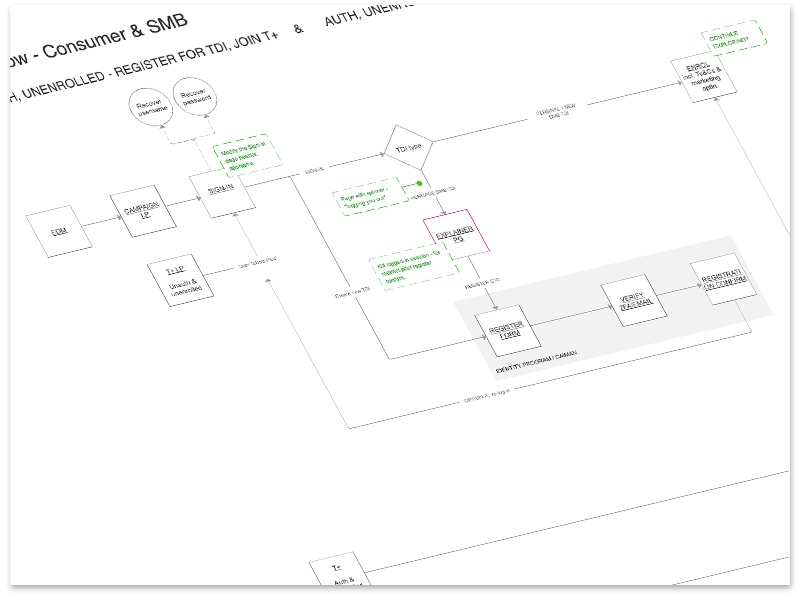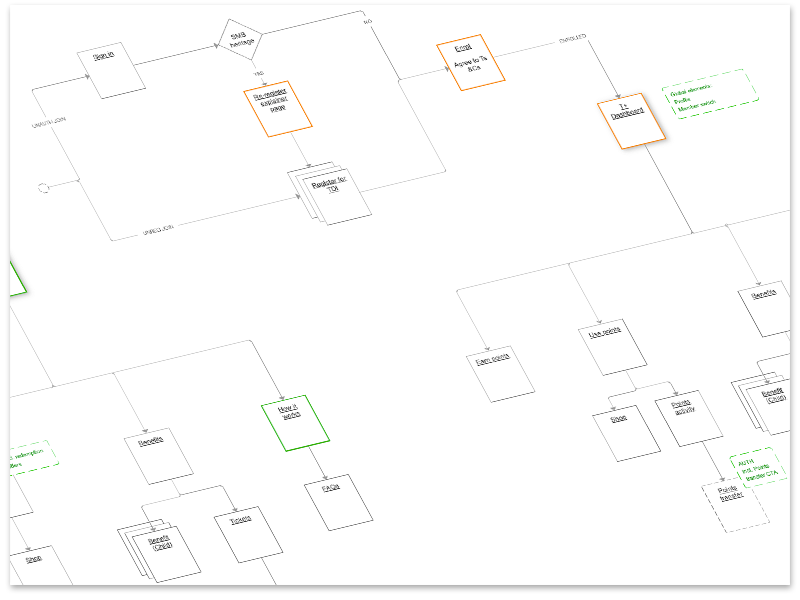 Furthermore, I worked with the 24x7 and My Telstra apps UX Designers and Product owners to drive relevancy in the acquisition and onboarding messaging presented to customers in the apps. This work was carried out in tandem with the Telstra ID program to drive a more prominent value proposition message for customers signing up to a Telstra ID. Conditional mapping was applied to key mobile app, web and mobile screens in order to bring clarity to the way messaging would evolve as a user stepped through the authentication stages.

Low to high fidelity wireframes and an interactive prototype was compiled in order to test concepts with Telstra and non-Telstra customers. Additional touch points were identified through testing that would drive engagement – these were explored and expanded upon.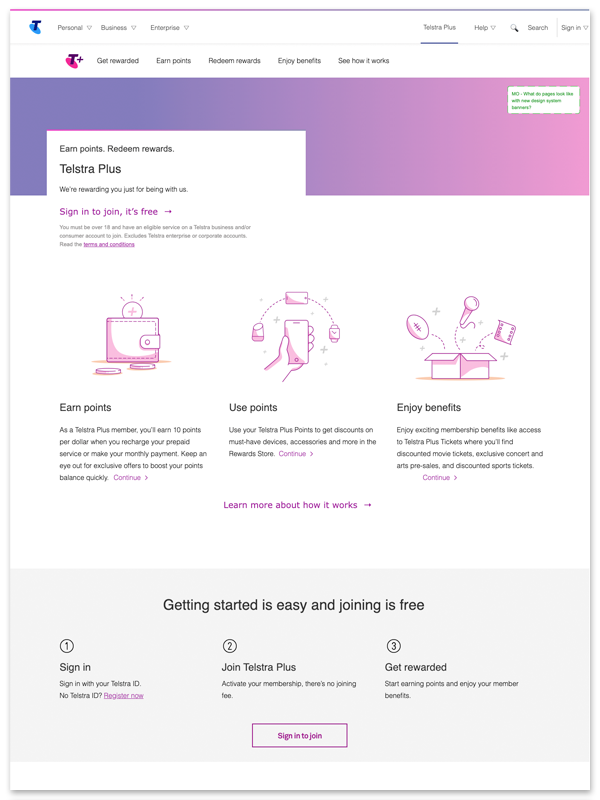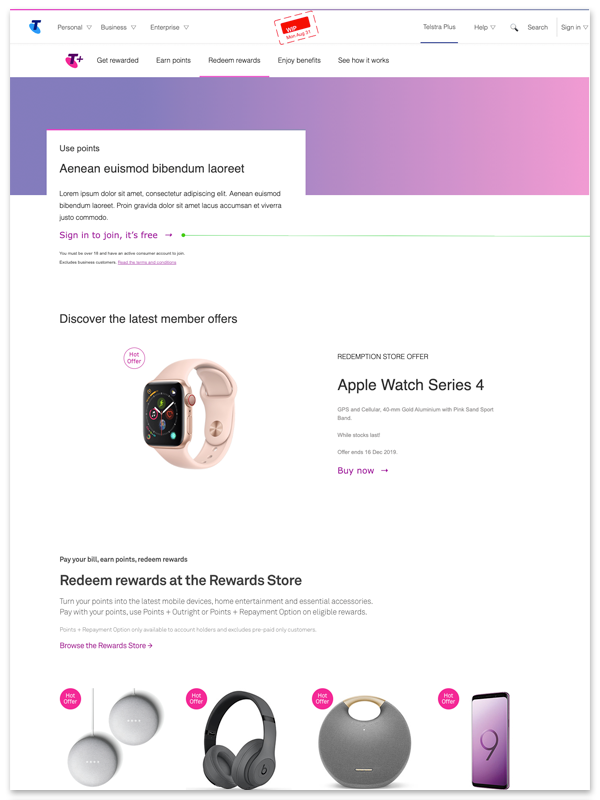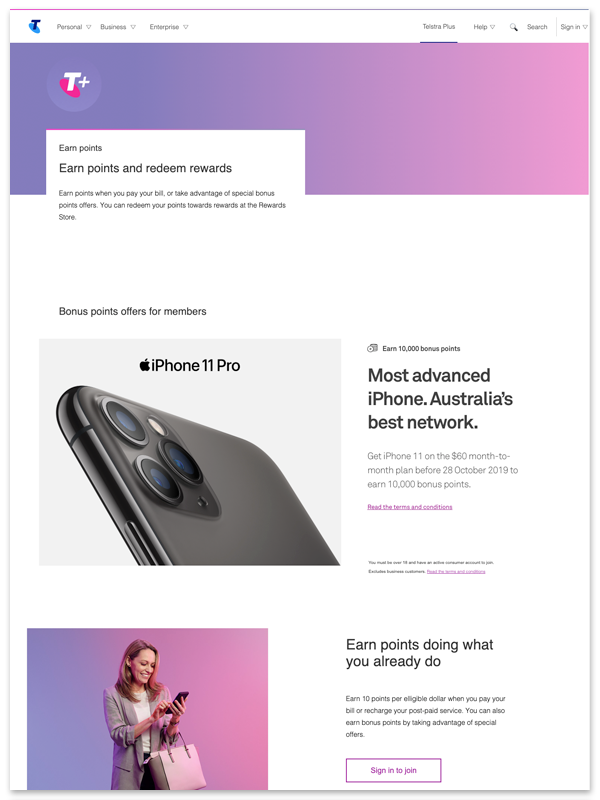 Features were designed to establish a member dashboard that would allow a member to see; the number of points accrued, which tier they were on and whether they might step up to a higher tier, what benefits they could access and the respective benefit status, what redemption store items they had enough points to redeem against and to be able to set redemption goals for, and the like. 

Detailed component concepts were then explored and tested rigorously with internal stakeholders to ensure integrity was maintained in light of the applicable business rules.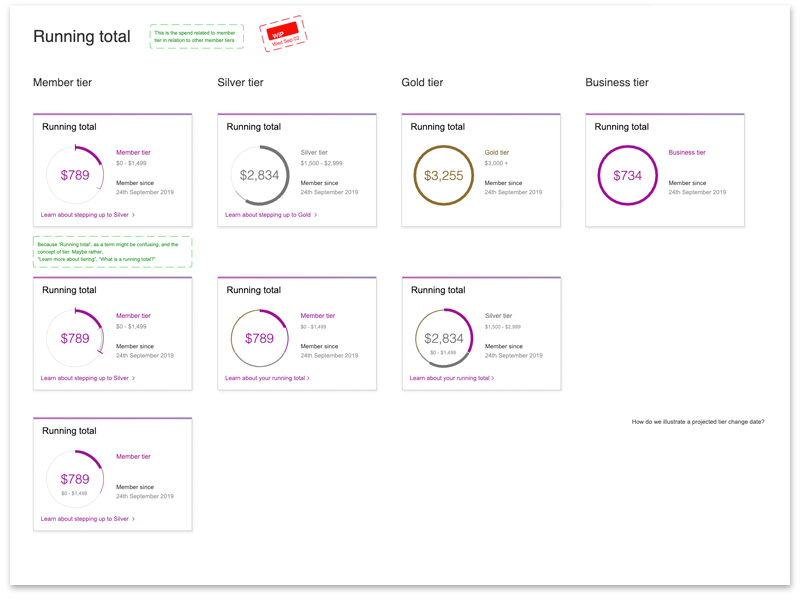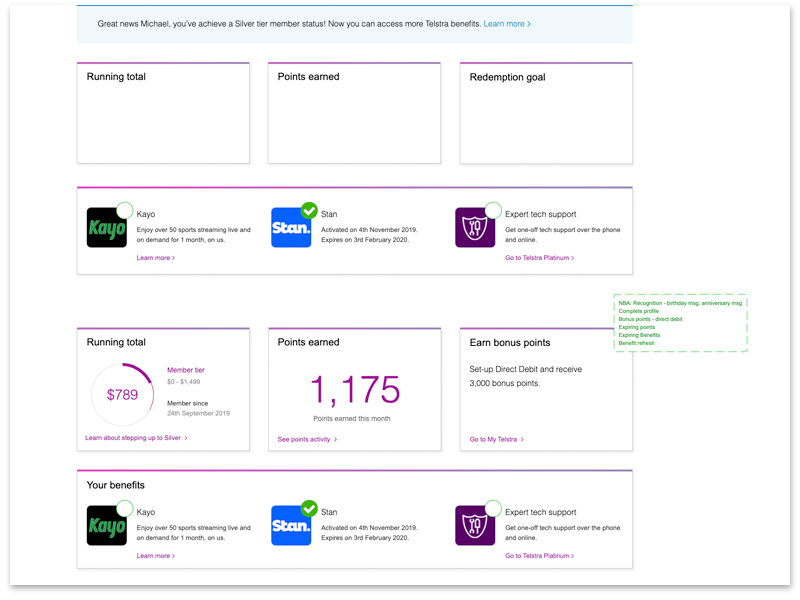 Design activities 
• Competitor analysis
• Performance tracking analysis
• Ideation sessions
• Co-design sessions
• High level user journeys
• End-to-end user flows
• Information architecture
• Low to mid fidelity wireframes
• Conditional component mapping 
• Interactive prototyping
• Usability testing
• Design QA
Stakeholder management / design ops
• Peer reviews
• Stakeholder walk-throughs
• Showcases
• Backlog grooming
• Sprint planning
• Retros
Tools 
• Axure Teams / Axure Cloud
• InVision
• Miro
• Jira
• MS Teams
Whilst supporting the delivery team in defining, designing and releasing features in line with their roadmap, I was able to bring clarity and a longer-term vision for the program with an emphasis on a personalised and engaging experience for prospective and existing Telstra Plus members.
Some of these features have been released as part of the newly launched My Telstra app experience, whilst others are in ongoing design, validation and development as part of the program backlog.